From the Dick Cheney School of Politics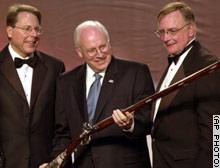 South Carolina Lawmaker Threatens Utility Workers, Accidentally Fires Gun
It appears a South Carolina lawmaker (and we assume, formerly "law-abiding gun owner" of the NRA) got a little hot under the collar Saturday evening. [1] Unfortunately, he had his gun with him.

A South Carolina lawmaker was arrested after his pistol fired when he went to investigate utility workers checking for storm damage in the backyard of his parents' home.

Rep. Wallace Scarborough, R-Charleston, was charged with two counts of assault with intent to kill after the 47-year-old brandished and pointed a pistol at utility workers and then fired his gun about 9:45 p.m. Saturday, according to an affidavit.

Scarborough, who was house sitting for his parents, was released from jail Sunday on a personal recognizance bond, according to jail officials.

Two South Carolina Electric and Gas employees were checking electric equipment after a series of storms passed through the area, SCE&G spokesman Eric Boomhower said.

Scarborough's lawyer, state Rep. John Graham Altman, said Scarborough asked the workers to leave and when they told him they had a right to be there, the lawmaker returned to the house to call police.

On the way, the gun accidentally discharged and a bullet hit the porch...more...