George W. Bush asking Congress to act?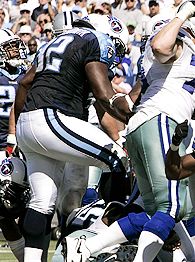 After finding it so easy to
trash
The Bill of Rights
and
The Constitution
, it is rumored that POTUS will ask Congress to make a few other changes.
The next change he would like to make would allow the old Republican stand-by "Stepping On the Opposition's Face".
Frist and Hastert are said to be obediently drafting the
Haynesworth Facial Reconstruction Act
.
This
really is pretty disgusting.